Well, thanks for attention, created the boot with the clover, when select the flash drive to boot, the screen goes black, does not happen anything .... should be board configuration as when I was with my Z77X Wi UD5H Fi was good, it would be something related to my new asus deluxe plate Z97, thanks

[Vous devez être inscrit et connecté pour voir ce lien]

a écrit:Well, thanks for attention, created the boot with the clover, when select the flash drive to boot, the screen goes black, does not happen anything .... should be board configuration as when I was with my Z77X Wi UD5H Fi was good, it would be something related to my new asus deluxe plate Z97, thanks
Did you try this Installer
UEFI setting ?
[Vous devez être inscrit et connecté pour voir ce lien]
Edit ...
just rename Your app to
Install OS X Yosemite.app
Thank you for your attention, have doubts when configuring the clover, the options to score, especially the drivers 64 UEFI, give me a suggestion for the motherboard I have, thank you.Already I tried to do with this version v2.3k R3239, but without success.
like that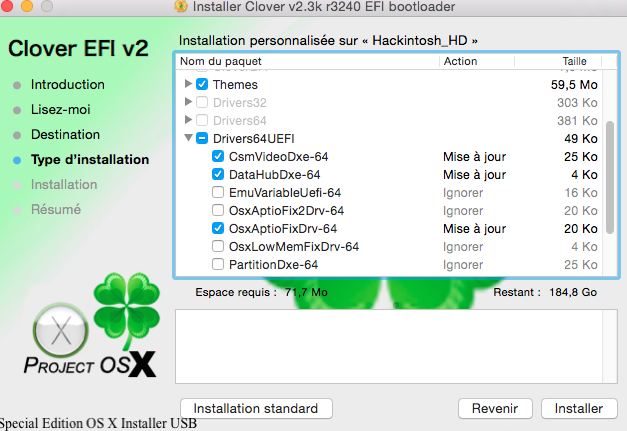 I thank you for your attention, my concern is will not give black screen again .....
---
Permission de ce forum:
Vous
pouvez
répondre aux sujets dans ce forum